..
  fordi dette er sant OG i aller høyeste grad mulig!! Her kombineres SUPER-ernæring og nytelse – kan man be om noe mer da? ♥ ♥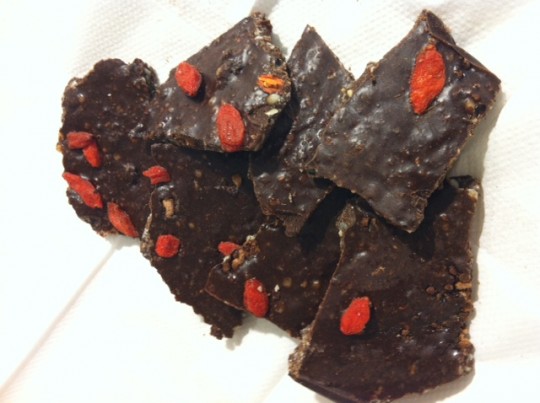 Nina´s super-RÅ-sjokolade
75 g Supernature hampfrø
4 ss g Supernature råkakaopulver (du bestemmer selv hvor mørk du vil ha sjokoladen..)
50 ml cocosolje + 50 ml valgfritt nøttesmør. (eller 100 ml cocosolje)
2 ss Sukrin Gold + steviapulver. Disse to sammen er supre!
2 ss Mesquite (kan sløyfes)
2 ss Rice Bran
2 ss Lecithin
1 knivsodd Himalayasalt
1/2 ts vaniljepulver
Gojibær til pynt
Bland det tørre. Smelt kokosoljen og vend godt inn i den tørre massen. Stryk utover et fat eller fyll i sjokoladeformer. Sett kjølig i ca 1 time.
NYT! 

..Ja, og siden det er PÅSKE snart, så kan du jo lage en påskevariant av denne sjokoladen ved å tilsette revet skall av 1/2-1 økologisk appelsin!
Enjoy ♥
8 Responses to ' Sweet & healthy – Yeah!! Enter my world and be convinced … '



Så deilig ut! Jeg elsker jo sjokkis så det går på høykant nå i påsken 😀




Ja, den er sååååå god 🙂

kommer snart med en ny variant, der det er mye mer proteiner, spirulina og diverse i. Og den ble syyykt GOD! 🙂




Så kjempegodt det ser ut!! Jeg lager rå sjokolade heeele tiden, det er jo SÅ godt og jeg føler det gjør kroppen godt, og da ser jeg ikke noen grunn til å slutte å spise det 🙂




Tusen takk, og helt enig! 🙂




[…] Sweet & healthy – Yeah!! Enter my world and be convinced … […]




Veldig inspirerende har du gått helt over til raw food får du da i deg nok kreatin da det ikke er kreatin i grøntfor
Mvh
Helge




Veldig inspirerende har du gått helt over til raw food får du da i deg nok kreatin da det ikke er kreatin i grøntfor
Merker du stor forskjel ved bruk av vannrenseren?

Mvh
Helge




Hei 🙂

Nei, jeg spiser både kjøtt, kylling, egg og fisk. Men mye grønnsaker ved siden av.

Ja, vannrenseren synes jeg er kjempebra! Ville ikke vært foruten den.

Mvh Nina
Leave a reply